Quick Links To The VW Caddy Review
VW Caddy Range Overview
The VW Caddy Range has been celebrated for its incredible versatility and capabilities for a smaller van. This Volkswagen range has something for everyone, whether you're looking for a new family car or a business vehicle.
Volkswagen has a reputation that precedes its vehicles – a reputation renowned for its safety & performance. In this article, we will provide reviews on each VW Caddy trim option, so that you can choose the perfect variation for your lifestyle.
These are the VW Caddy models available in South Africa:
The VW Caddy 5
Caddy 1.6i 81kW 152Nm Man
Caddy 2.0 TDI 81kW 300Nm Man
Caddy Maxi 2.0 TDI 81kW 300Nm Man
The Caddy Kombi models:
Caddy Kombi 1.6i 81kW 152Nm SWB
Caddy Kombi 2.0 TDI 81kW 300Nm SWB
Caddy Maxi Kombi 2.0 TDI 81kW 300Nm LWB
The Caddy Cargo models:
Caddy Cargo 1.6i 81kW 152Nm SWB
Caddy Cargo 2.0 TDI 81kW 300Nm SWB
Caddy Maxi Cargo 2.0 TDI 81kW 300Nm LWB
With this wide array of options, you will be able to choose a Volkswagen vehicle that fulfils your transport needs. If you have any questions about these models, you can always find a dealer near you to learn more.
VW Caddy 5 Review
Learn more about the Caddy 5 with this video review by Wheels Australia.
Caddy 5 Space & Functionality
As aforementioned, the Caddy range is one of the most versatile vehicles in Volkswagen's arsenal. With the Caddy 5 – this car can serve your needs in whatever way you choose. The Caddy is available as both a 5-seater and a 7-seater. All the seats have multiple functionalities and configurations, allowing you to remove seating if you need more cargo space.
The space in this new VW Caddy 5, shows that sometimes less is not more. The standard Caddy 5 has a volume of 2.5m cubed while the Caddy Maxi has a volume of 3.1m cubed without any seating. The Caddy also has improved storage facilities with new draws and a removable luggage cabin cover.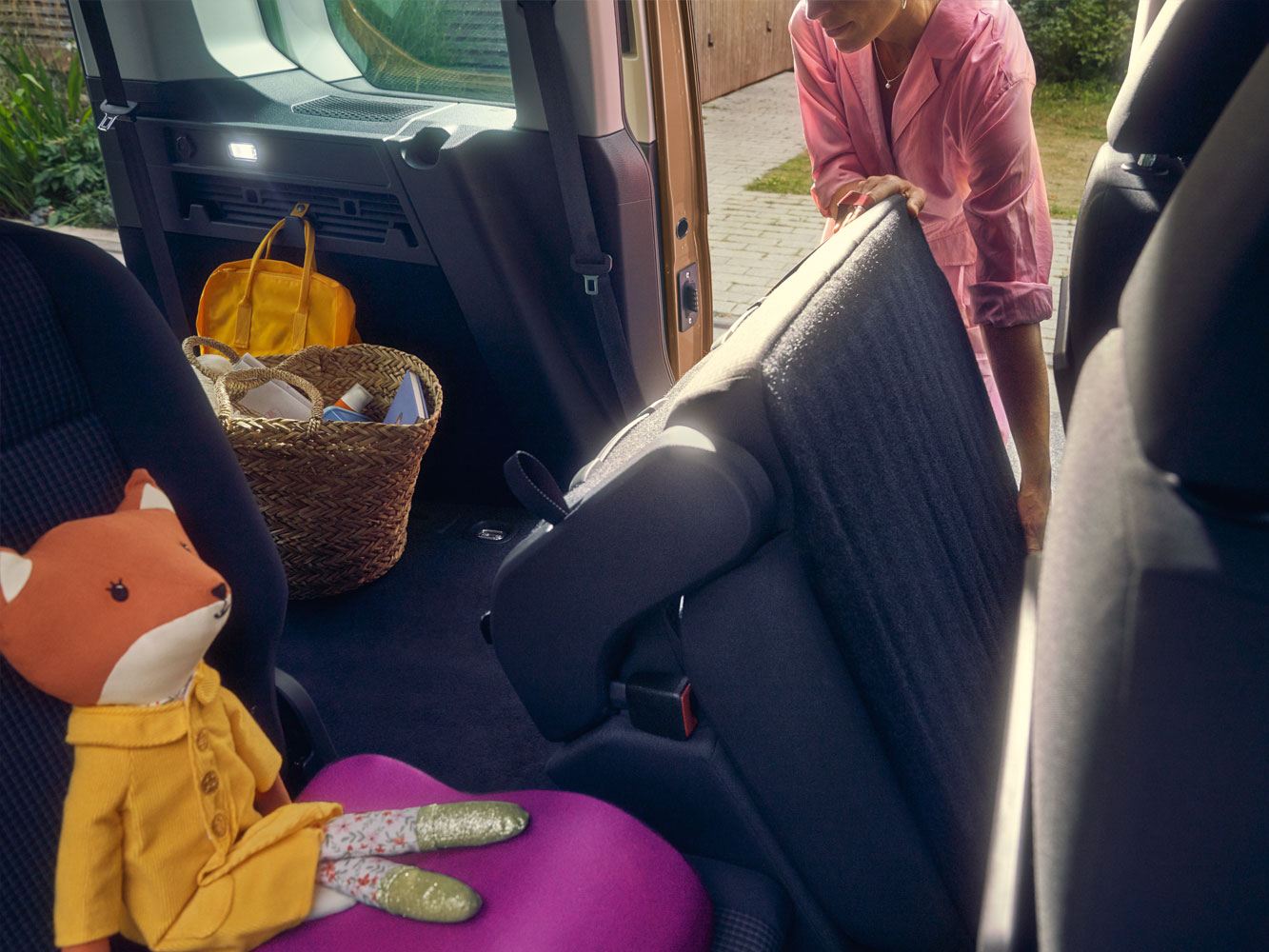 VW Caddy 5 Safety & Technology
The Caddy 5 has safety features that help to improve your drive, as well as standard Volkswagen best practices. Whether you're transporting people or goods, you will want to know that your precious cargo is safe.
According to the Euro NCAP, the Caddy received 5 stars in December 2021 with the following statistics:
Adult occupant – 84%
Child Occupant – 82%
Safety Assist – 79%
You can download or view a full report of the safety review by Euro NCAP to learn more.
The technological features that have been employed work to make driving the Caddy 5 less stressful and safer for drivers and pedestrians. Cruise control helps assist drivers on their journeys and can help save costs on petrol and even help avoid breaking the speed limit. Park assist is an optional add-on that allows parking to be more accurate.
The Auto-hold feature is great for city driving when you're stuck on that steep hill sitting in traffic. This feature stops the car from unintentionally rolling backwards or forwards, keeping you and other drivers safer on the road. Overall, the Caddy 5 proves to be a car that works hard to surpass safety expectations.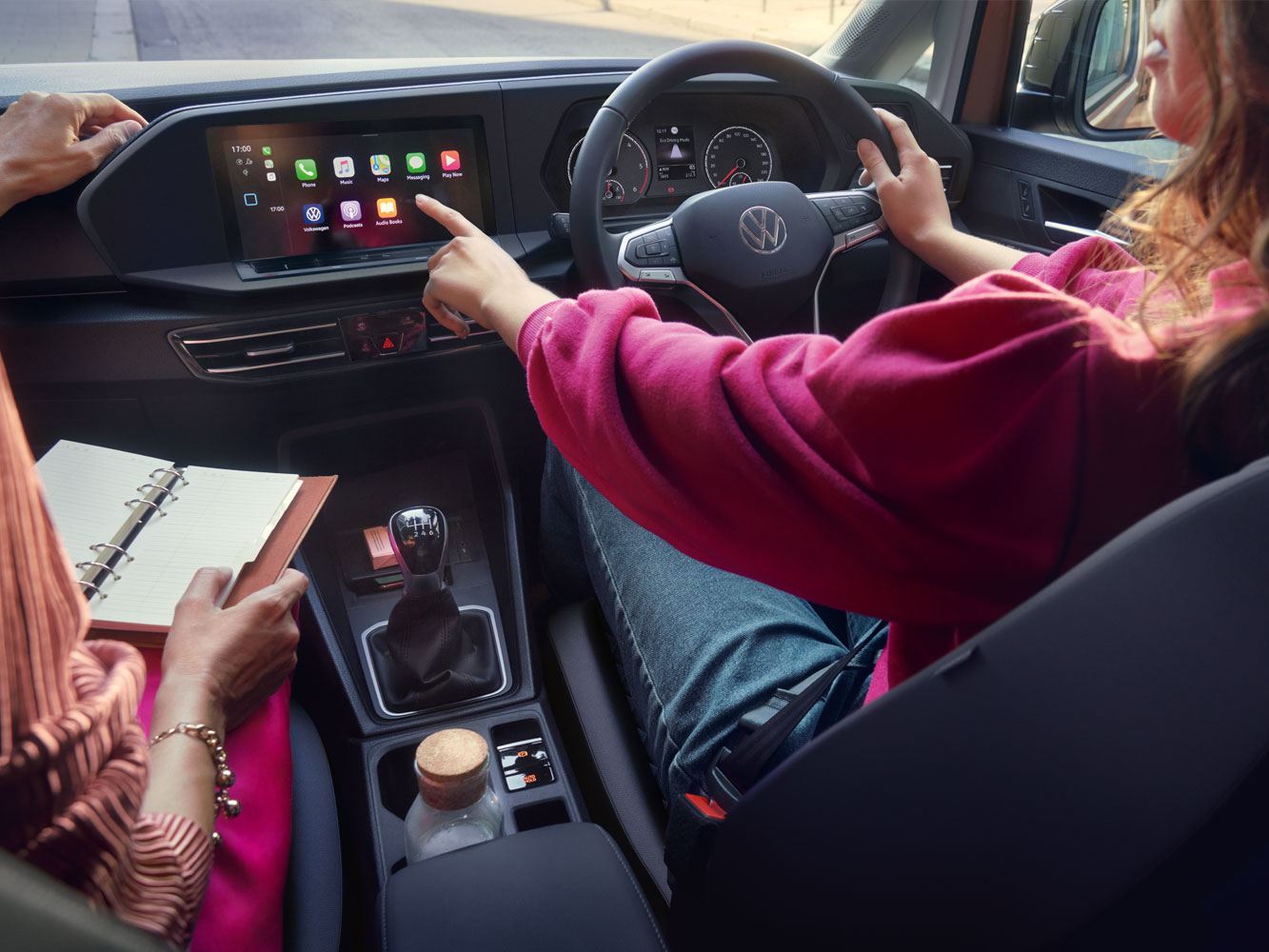 The VW Caddy Kombi Review
You can watch a short video review on the Caddy Kombi below.
VW Caddy Kombi Performance & Drive
The Caddy Kombi comes standard with either a diesel or petrol combustion engine. The combustion engines help to improve your car's fuel economy while driving. The Caddy Kombi 1.6i 81kW SWB can accelerate from 0-100km in only 12.8 seconds. An impressive feat for not only a vehicle of its weight but as a van in general.
According to a review on AutoTrader online, "The 110kW 2.0TDI Kombi (with 340 Nm) completes the obligatory 0-100 km/h sprint in just over 10 seconds, and the 7-speed DSG gearbox does a fine job of keeping the four-cylinder pot on the boil." The Caddy Kombi has always been a fan favourite in South Africa, and for good reason!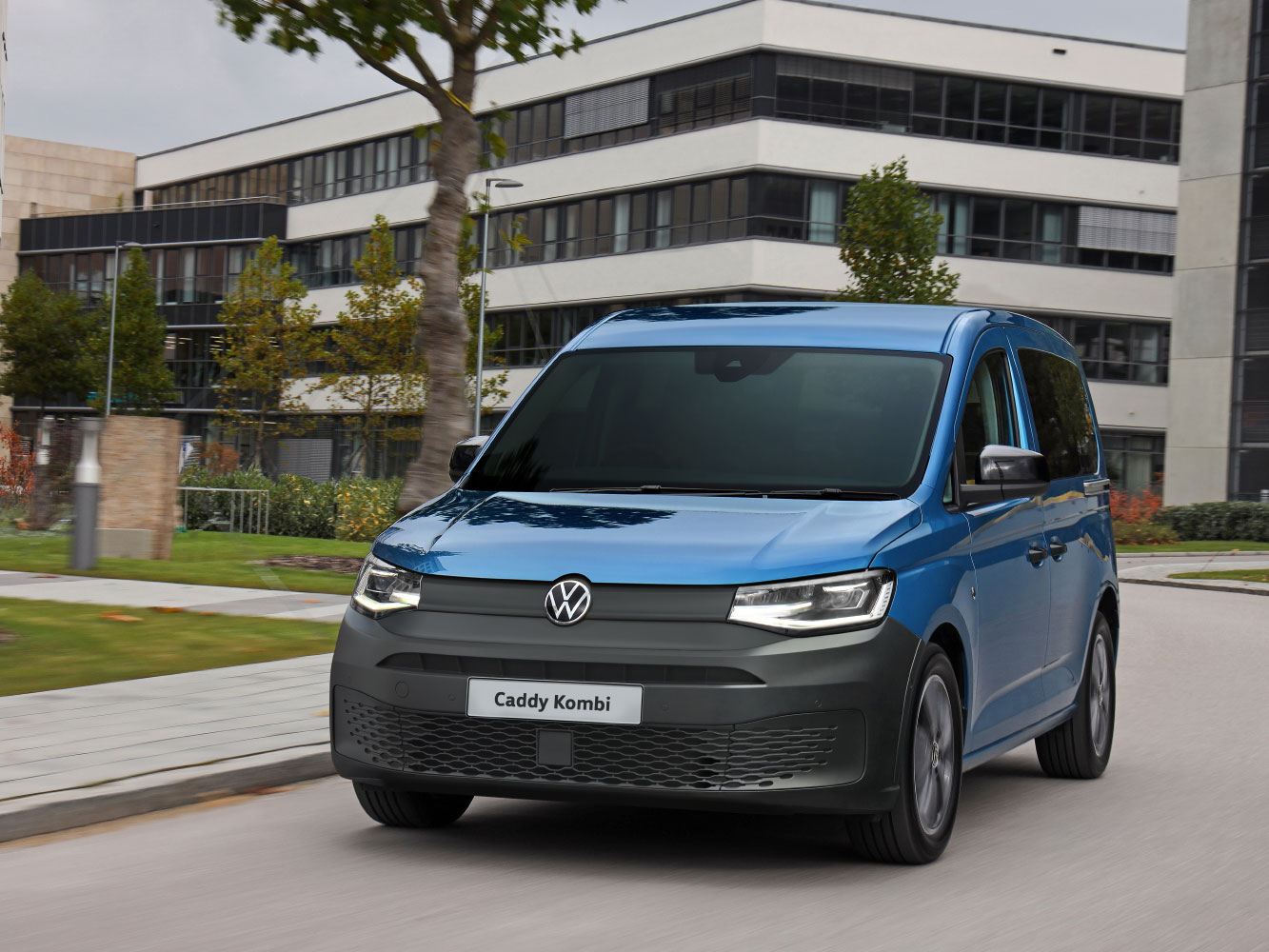 Caddy Kombi Space & Functionality
The VW Caddy Kombi has had some practical design updates, but that is not all. The exterior has been updated with a modern honeycomb grille. In terms of functionality, this van has headlights that light up the road with new halogen technology. There are also specific daytime lights that ensure you can always see the road ahead no matter the weather.
The Caddy Kombi is available with up to 7 seats that can be configured to suit your needs. This flexible interior allows you to set your Kombi up for a camping trip, a delivery trip or a family vacation. The volume of the load compartment is the same as the Caddy 5, with 2.5m cubed for the standard Caddy Kombi & 3.1m cubed for the Kombi Maxi. This space allows you to arrive at your destination fully prepared – without your van feeling overcrowded.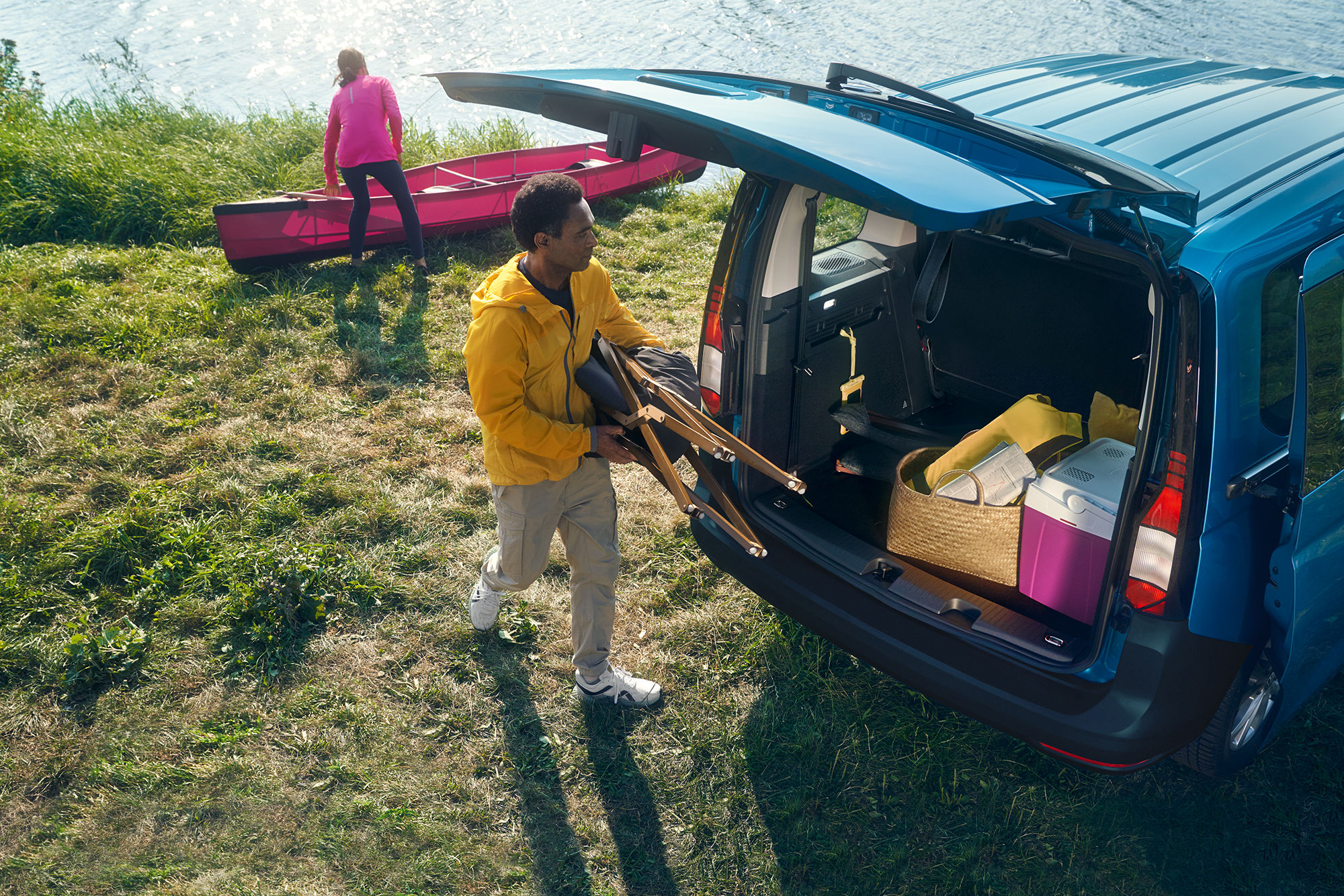 VW Caddy Kombi Technology & Safety
The Caddy Kombi provides its users with good old-fashioned functionality, with modern technology. The convenience this provides allows the driver a stress-free drive with only the best tech at their disposal. The VW Caddy Kombi features the option to add App-Connect, which integrates applications from your smartphone to the infotainment screen. This synthesis allows the driver to manage their entertainment and communication safely and easily.
The infotainment system is also connected to a multi-functional steering wheel that contributes to added convenience. You can learn more about the safety capacity of the Caddy Kombi with the video of the Euro NCAP safety assessment. The video shows a particular Kombi variant undergoing different impacts and it fares in collisions.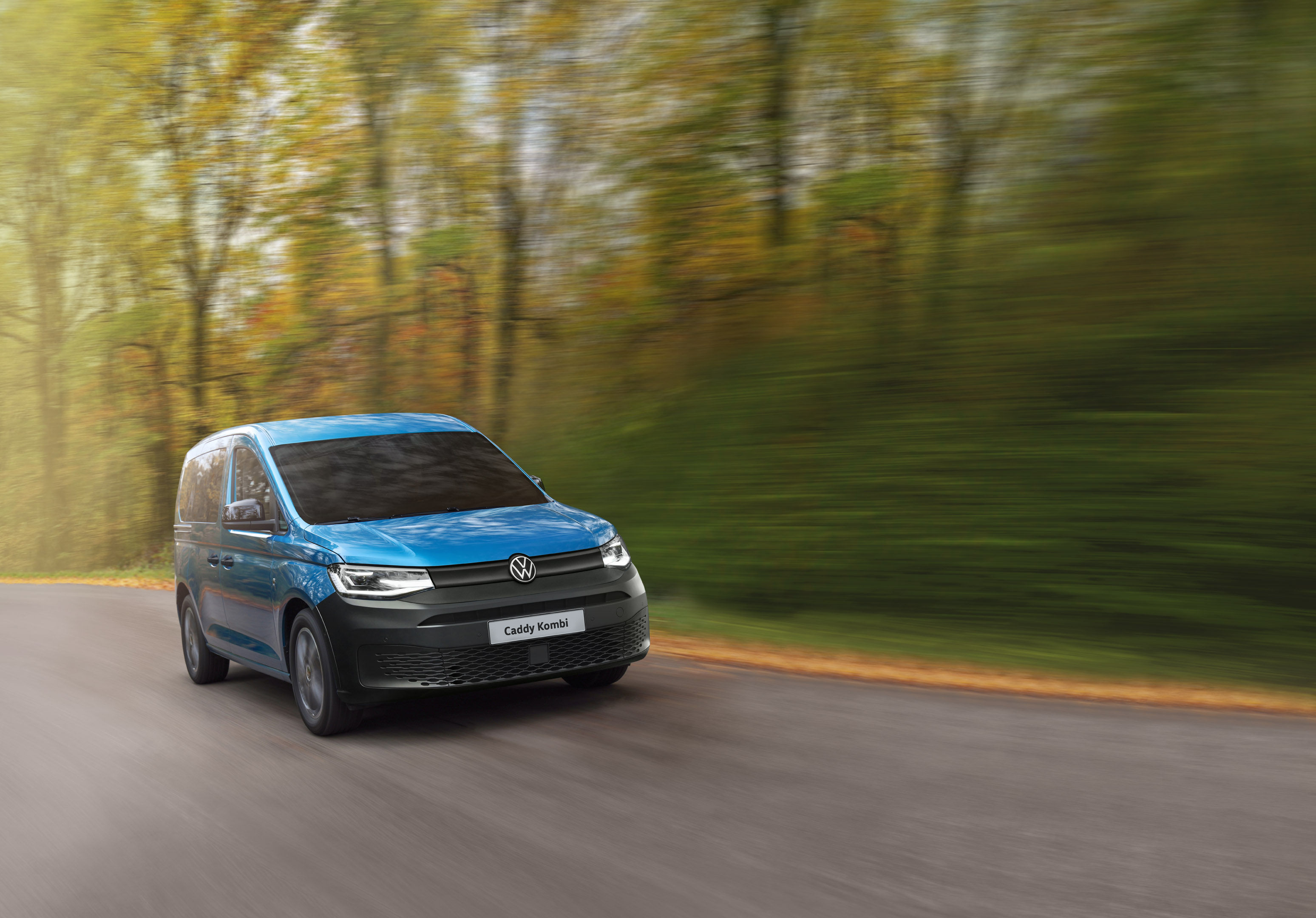 The VW Caddy Cargo Review
Below you can watch an up-to-date video review of the Caddy Cargo.
VW Caddy Cargo Performance & Drive
An important factor to note about the Caddy Cargo is that it has the same engine as the classic VW Golf.  The Volkswagen Caddy Cargo is a crowd favourite due to its performance and functionality. The Caddy has been described as a small van that handles incredibly well, adding to its popularity.
According to What Car Online, "The [VW Caddy Cargo] steering, for example, responds quickly to your inputs, body lean is always kept in check and there is a surprising amount of grip. The current generation of Caddy gets coil suspension (a more advanced rear suspension design than most vans), so it rides lumps and bumps with real sophistication, regardless of whether the rear is loaded or not."
Caddy Cargo Space & Functionality
The Caddy Cargo is a van that is ready for business at any time, all the time. The Volkswagen Caddy Cargo has a payload ability of up to 718kg and a 100kg weight capacity on the roof of the van. This makes the VW van an impressive automobile for business endeavours. With the interior comforts and the technological updates, this van will do more than just take you from A to B.
This Volkswagen van has been designed for the best user experience, with both rear wing doors and side sliding doors. The vehicle also features side mirrors that can be electronically adjusted. This ensures that your eyes are always on the road! The VW Caddy Cargo also has interior LED lights that light the load compartment, while working to save energy. All so that you can see more with less power used.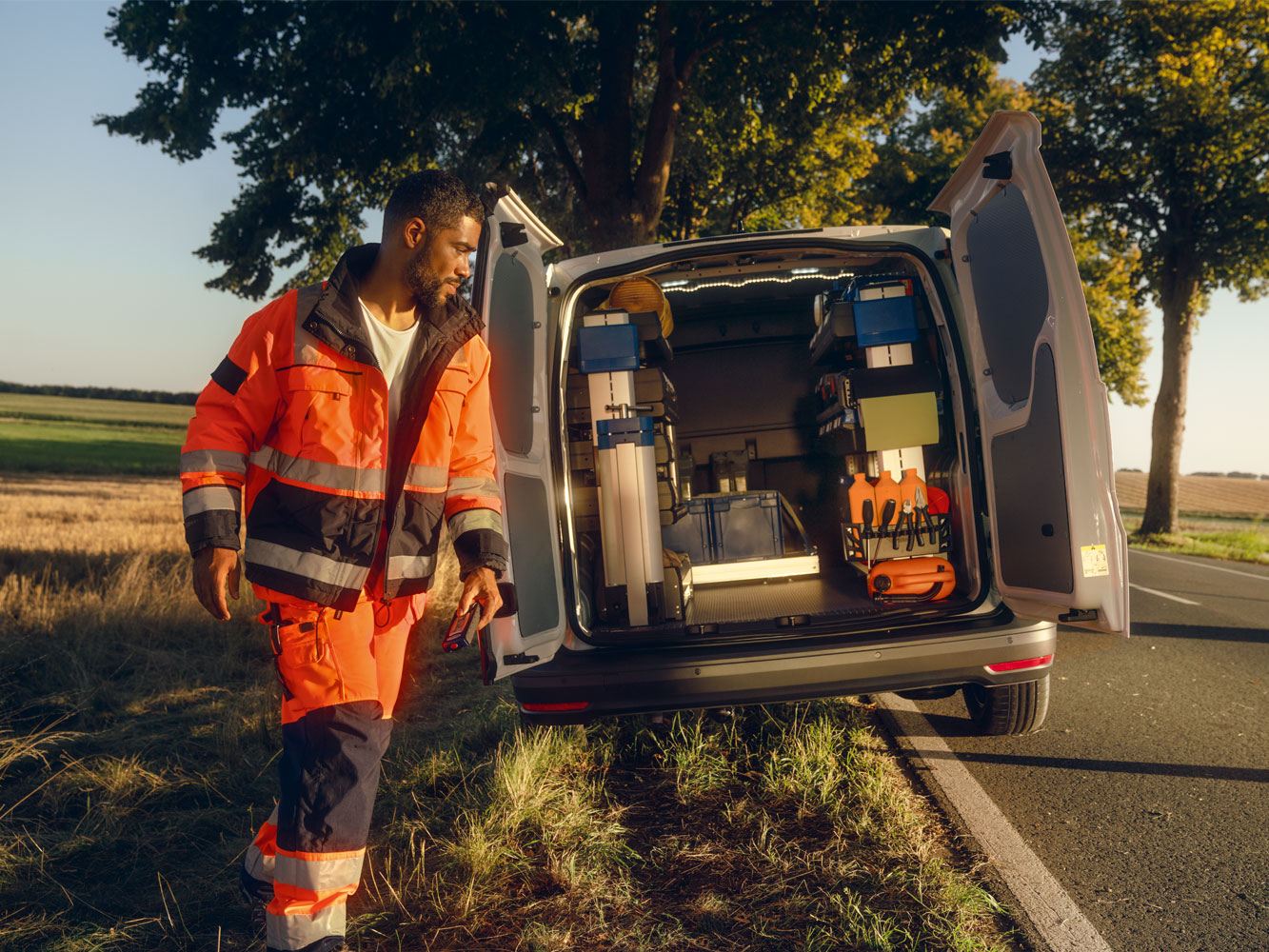 VW Caddy Cargo Technology & Safety
Safety is a huge part of choosing a vehicle, especially when deciding on a vehicle that will be a part of your business. Many businessmen & women choose the Cargo due to its modern technology and its safety. Since you will likely be on the roads often for your business, it is important to be able to drive with peace of mind – and the Caddy Cargo allows just that.
With optional driver assistance features like cruise control, park distance control or a rearview camera – you can complete your everyday business tasks with ease. The electronic parking brake allows you to park quickly and the auto-hold stops your car from unintentional rolling on a slope. These features help alleviate the stress that can come with having a business on the go or transporting goods.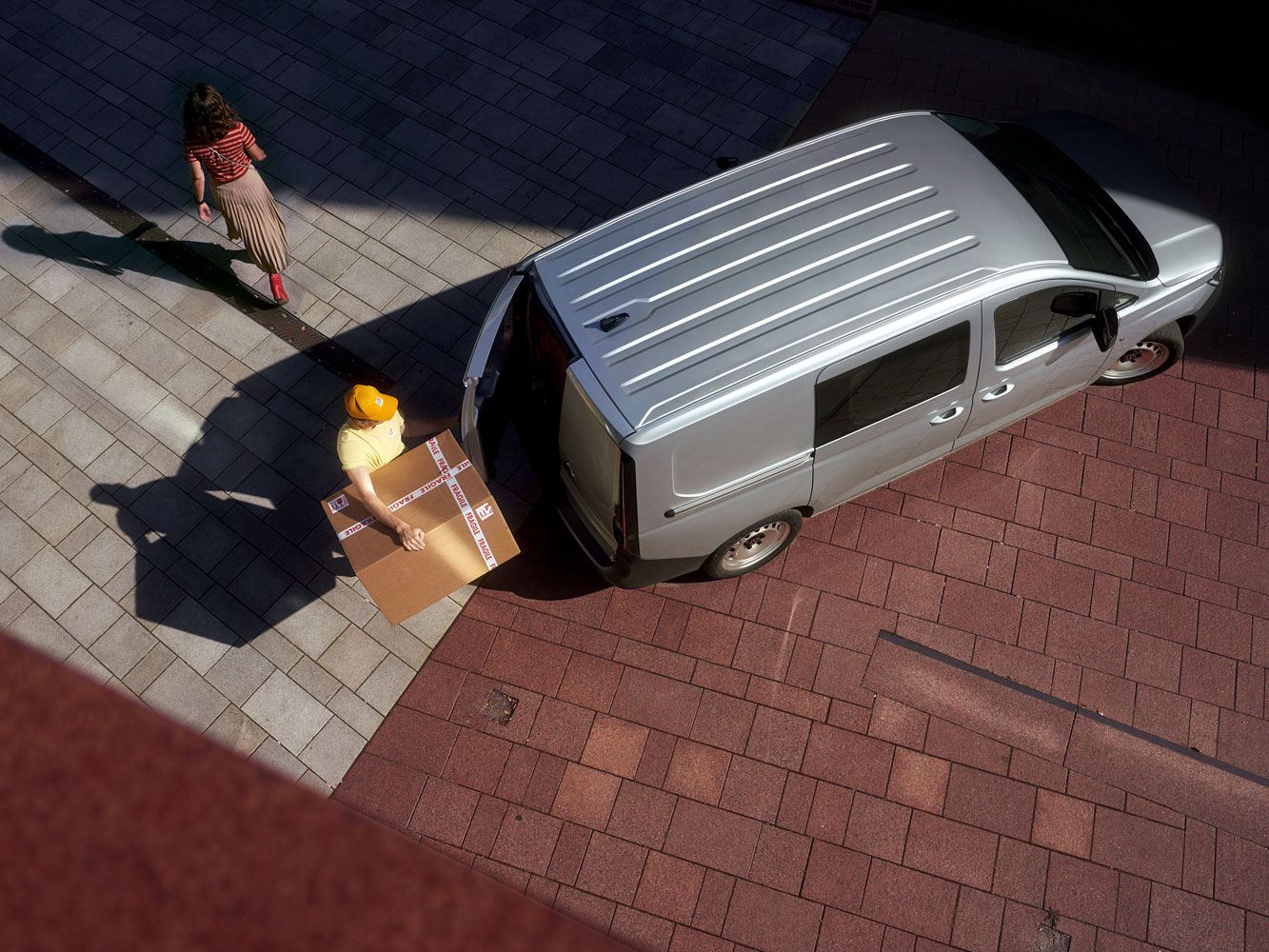 VW Caddy Range FAQs
Is the Volkswagen Caddy reliable?
The Volkswagen Caddy is a very reliable van. In January 2022, the VW Caddy was named the third most reliable van in the United Kingdom, with the VW transporter and Mercedes Sprinter ahead of it. This was named by the FN50 van reliability survey in the UK. With concerns to price, this makes the Volkswagen Caddy one of the best choices as a van.
What is the best Caddy van to buy?
The best Caddy you can buy is a van that will suit your specific needs. If you're looking for a family vehicle, the Caddy 5 would be your best bet. If you're looking for a commercial van for work then the Caddy Cargo is perfect. If you're looking for a sort of hybrid between the two, you may want to go for the Caddy Kombi.
What is the equivalent of a VW Caddy?
The Volkswagen Caddy is an incredibly unique van, there are however small vans that can match up to its capabilities. You can read about the vans that have been deemed equivalent to the VW caddy in What Car's article.
What is the most comfortable small van?
In terms of comfort, the VW Caddy reigns king. The seats in the Volkswagen Caddy range are comfortable and there is ample space in both the front row of seats and those that follow. With a 5-seater or 7-seater variation, there is more than enough space for everyone!
Additional Resources on the VW Caddy Review
Where Can You Buy A VW Caddy?
We want to find your perfect VW Caddy! CFAO is a certified Volkswagen Dealership, and if you'd like to see what our customers say, please check out our customer reviews.
Do you have a Volkswagen Dealer near you? We have an easy-to-use online tool that helps you to locate a VW dealership in your area.
If you'd like to know more about the VW Caddy range review, or any other Volkswagen vehicle please do not hesitate to contact us!
Phone: 011 795 5000
Email: intuli@cfaomotors.co.za
Read More About The Volkswagen Caddy