Quick Links To The Tiguan Allspace Review
VW Tiguan Allspace Range Overview
Experience more with the Tiguan Allspace as your ride. Get out there with your family and enjoy some larger-than-life adventures. Read our Volkswagen Tiguan Allspace review to learn more about all this large and in charge SUV with seven seats has to offer.
If you are not familiar with the Tiguan and Tiguan Allspace, we'll clarify for you: the Allspace is the older sibling of the standard Tiguan. It is larger than the standard Tiguan – where the Tiguan is equipped with five seats, arranged in two rows, the Allspace is a seven-seat SUV, with a third row of seats. This makes it the perfect solution for those who are looking to fit their close friends or household into a spacious and comfortable SUV. Cross country road trips will never be the same again.
The Tiguan Allspace is so much more than the technologically advanced, beautiful SUV it appears to be – it's a car that's ready to hit the open road and venture off the beaten path. It's the embodiment of the spirit of adventure and will go wherever the path may lead. You'll be hard-pressed to find an equally versatile and eye-catching vehicle of this size, that's able to meet all of your lifestyle's demands.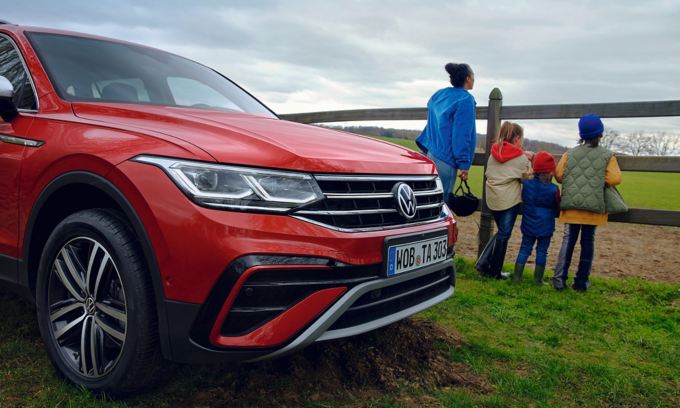 VW Tiguan Allspace Trim Options
There is a variety of Allspace trims to choose from with different engines and standard features. The Allspace that is right for you will depend on what features you would prefer to come standard with the vehicle, and your preferred engine power.
Trim Level
Recommended Retail Price
Tiguan Allspace
Tiguan Allspace Life 1.4 TSI 110 kW 6-speed DSG®
R671,700
Tiguan Allspace Style 2.0 TSI 132 kW 4MOTION 7-speed DSG®
R726,000
Tiguan Allspace R-Line 2.0 TSI 162 kW 4MOTION 7-speed DSG®
R719,700
Tiguan Allspace R-Line 1.4 TSI 110 kW 6-speed DSG®
R798,000
CFAO Volkswagen is a proud stockist of all of the latest car models the German automaker has on offer in the country, like the four Allspace models mentioned above. With a number of car dealers across South Africa, we are happy to assist you with any questions, comments or queries you may have regarding any car in the current line-up.
Please note that this review serves as a general overview of the VW Tiguan Allspace range as a whole, with no particular focus on any one model. For full details on one of these Allspace models, we invite you to contact your nearest CFAO Volkswagen dealer to speak to our knowledgeable sales staff.
VW Tiguan Allspace Performance & Drive
Don't let its size fool you: even with the added length to accommodate seven seats, it is surprisingly easy to drive in the city or around town. The car's light steering, combined with its large windows and raised driving position, gives you a good view of the road, making it much easier to manoeuvre out of tight spaces. What Car? writes in their review that "[t]he Tiguan Allspace handles more like a conventional hatchback than many of its SUV rivals; it's genuinely enjoyable to drive."
You'll barely feel any bumps on the road, even as you escape the urban jungle. A lack of grip and excessive body lean won't be problems either so you can take on twisting country roads with confidence. All models offer you plenty of grip but those equipped with 4MOTION all-wheel drive technology do offer a little more traction when driving in slippery conditions. Road and wind noise is kept to a minimum when driving along the motorway, so you can keep the conversation flowing or listen to music without having to strain your ears.
Tiguan Allspace Load & Passenger Space
With the third row of seats, plus the roomier boot, there's heaps of space for passengers to pack their bags and join you on your next adventure. The third row is ideal for accommodating kids and shorter adults (those under 1.60 m). The seats in the front and the middle row can accommodate taller individuals than the back row.
Compared to the standard Tiguan, the middle row of seats in the Allspace is much more spacious and far easier to get comfortable in, as the car's body is longer. As for the seats in the front, you'll find they can be adjusted in a range of ways, so body aches and pains during long drives won't be a problem anymore.
You can also fold down the Allspace's rearmost seats and the luggage capacity increases to 760 litres. If you need even more luggage space, fold down all rear seats to free up to 1920 litres of space.
In terms of style, the cabin can be summed up as the height of 'contemporary urban refinement.' The Allspace's interior is user-friendly as all buttons, dials and knobs are located within reach, plus they feel solid when used.
Safety & Technology In Tiguan Allspace
Allspace Technology
Step inside the Allspace and you'll soon come to realise that it's a lovely place for a driver and passengers, thanks to its incredible comfort, sleek design and heaps of space for people, as well as luggage.
Mat Watson hit the nail on the head with this comparison in his Carwow review: "The Volkswagen Tiguan Allspace is a bit like a Tiguan that's bought itself a designer backpack – it's quite a bit more practical but without compromising on style."
Overall, the dashboard is uncluttered, making it a breeze to find whatever you're looking for. The standard 8-inch infotainment system touchscreen is crystal clear and angled slightly towards the driver for ease of use.
Allspace Safety
Since this car is made with families in mind, you can rest easy so that your loved ones will be well taken care of, no matter what happens or where you travel. The VW Allspace range comes with all the various standard features you've come to expect that aim to keep you safe from harm.
Standard features include:
Fatigue detection "Rest Assist"
Electromechanical power steering, speed-sensitive control
Airbags for driver and front passenger, with front passenger airbag deactivation
Curtain airbags, front & rear including front side airbags
ISOFIX attachment points (arrangement for attaching 2 child seats on the rear seats)
3-point seat belts in the front with height adjustment and pre-tensioners
3-point seat belt for rear seats (including centre seat)
Warning sound and light to indicate when seat belts are not fastened (front and rear)
Automatic headlight control
Tyre pressure monitoring system
Park distance control (front & rear)
Tiguan Allspace Video Review
If you'd like to learn more about the Tiguan Allspace with an audio-visual experience, you can watch this video on the Tiguan Allspace R-Line 2022.
Tiguan Allspace Review FAQs
Is the Tiguan Allspace Reliable?
The Tiguan Allspace embodies the VW reputation for reliability and has advanced safety features. If you would like to ensure the longevity of your Tiguan Allspace, it is important to book services regularly and only use certified Volkswagen parts and accessories in the vehicle.
Is the Tiguan or Tiguan Allspace Bigger?
The Tiguan Allspace is the bigger (and some say better) version of the standard Tiguan. It is a definitive fact that the VW Tiguan Allspace is bigger in dimensions and in seating (7-seater). So, if you are looking for an SUV that is bigger than average, you should invest in the Tiguan Allspace.
Is the Tiguan Allspace a 7-seater?
The Tiguan Allspace is a 7-seater vehicle, with foldable and flexible seating options. It is the bigger version of the original VW Tiguan SUV.
Where Can You Buy A VW Tiguan Allspace?
We want to find your perfect VW Tiguan Allspace! CFAO is a certified Volkswagen Dealership, and if you'd like to see what our customers say, please check out our customer reviews.
Do you have a Volkswagen Dealer near you? We have an easy-to-use online tool that helps you to locate a VW dealership in your area.
If you'd like to know more about the VW Tiguan Allspace range review, or any other Volkswagen vehicle please do not hesitate to contact us!
Phone: 011 795 5000
Email: intuli@cfaomotors.co.za
Read More About The Volkswagen Allspace